Whale Alpha is a crypto telegram group that provides trading calls through algorithmic trading. The team is comprised of 3 Top noted quant traders that have been involved in algorithmic portfolio rebalancing, forex trading and crypto operations with top European Banks. The simple yet extremely effective signals are the signature of this highly efficient group.

Binance, Binance Futures, FTX
Scalping and swing trades.
Full Cornix.io integration
Customer pre-sale support
Customer after-sale support
*the service provider is tested during the period of one month and the result of the final rating is rounded down
Whale Alpha review - A crypto telegram group with quant trades
Whale Alpha was a bit of a mistery when we first got in. there is no active community chat and a single channel. In reality we do not want to have a lot of channels to browse through but only one channel is pretty simple for what they are supposed to do. Upon examining the last trades we discovered that the strategy of the group is more like surgery. Extremely precise entries and exits, like pixel perfect. The signals are arriving automatically on the telegram channel, parsed by Cornix.io bot and executed on the member's exchange.
Who's the team behing Whale Alpha ?
The team is comprised of 3 members. We could not get the name of any of them and when they asked why  their reply is that they are heavily tied into banking operations and this telegram crypto signals group was more of a fun gig for them. Therefore they can not disclose their identities. All our communications were done through a support portal where we didnt have any agent name except "Tom" .  Now, contrary to the projects in crypto that have a clear team and promise the moon, the team behing Whale Alpha promises nothing, doesn't brag and has very few marketing campaigns.
Whale Alpha binance signals crypto telegram group
It is our honest opinion that Whale Alpha is a gem that doesn't really want to be found. The admins let us get all the information a normal member would but did not try to promote their services in any way. Oddly enough, we appreciate that as an honest move and will continue to treat this group as a gem.
The way the algorithm trades is pretty complex, it switches leverages, ranges, and offers a diverse set of pairs on Binance Futures. In the period we tested the Whale Alpha service we only had one stop loss that was around 15% of the allocated amount and our average PNL per trade was about 7%. The max leverage used was 15x and the longest duration was of 3 hours on a single trade. 
We can confirm hands down that the trade performance of this channel is it's best weapon.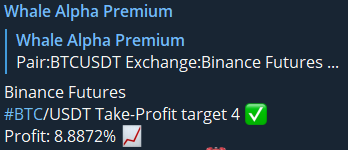 Custommer support on Whale Alpha is a bit slow sometimes. And frankly , after knowing where they come from  and that this is just a side gig, we understand. Average response time is around 30m, with the shortest being 10m.
Whale Alpha does not offer any kind of trading education , videos, streams or any cryptocurrency trading guide.
Whale Alpha went for the most simple approach a signal provider can have. That is simple signals, good quality , frequency depending on the market. A support that is admittedly a bit slow but the package is rock solid because of the exquisite trade performance. We therefore welcome with open arms Whale Alpha in the Binance Futures Signals TOP 10 Family