⚠️Warning! Binance Killers has not submitted the monthly results for the last several months. Due to lack of transparency we advise to proceed with caution!⚠️
Binance Killers has been known for some time as one of the best stops for altcoins and general cryptocurrency trading signals. Started in December 2020, this signal provider is working hard and providing good consistent results in terms of general performace and accuracy. Like many of the providers we list on our site, Binance Killers, offers more than just pure signals, they also offer education and have great support. The signals are on point, extremely clear and well organized. We also appreciate their careful approach on risk. Trading with Binance Killers can be an extremely positive experience.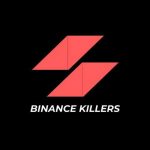 0.008BTC/Month, 0.01BTC/3 Months. 0.02BTC/Year, 0.025BTC/Lifetime
Midterm, Longterm and some scalping
Cornix telegram bot has just been integrated
English, Spanish, Russian
Customer pre-sale support
Customer after-sale support
*the service provider is tested during the period of one month and the result of the final rating is rounded down
*service providers are audited monthly and the results reflect in each months update
Detailed review for Binance Killers
On our first contact with one of the admins of this telegram crypto signals group we have placed ourselves in the persona of a trading newbie that wants to join a signal group. And we asked a lot of questions to test the knowledge and the patience of the admin. @bkceo has proven to be extremely helpful and took the time to help us even though some of the questions we asked were really basic. 
Therefore, the editorial team at Binance Futures Signals is extremely happy to add another quality provider to our validated crypto telagram signals list. Let's dive into the details of the Binance Killers telegram group.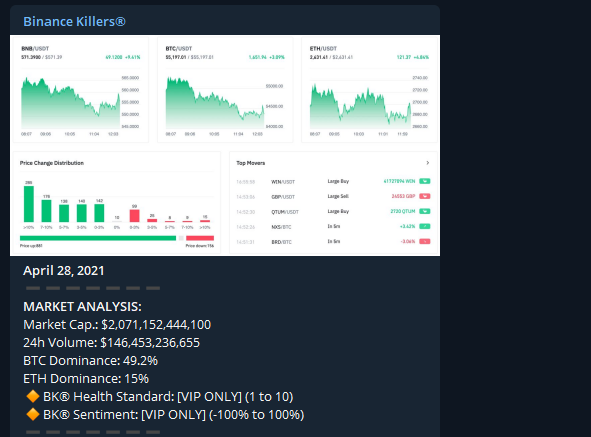 Because we are fully aware that a thorough review is needed for our readers, we took the time and reviewed a lot of aspects of Binance Killers, a telegram crypto group that you will find extremely attractive from multiple standpoints.
The analysis of this signal provider starts at a team level. We have checked the backgrounds and the validity of each admin in the group with the information that was gathered by our researchers. 
Who are the Binance Killers?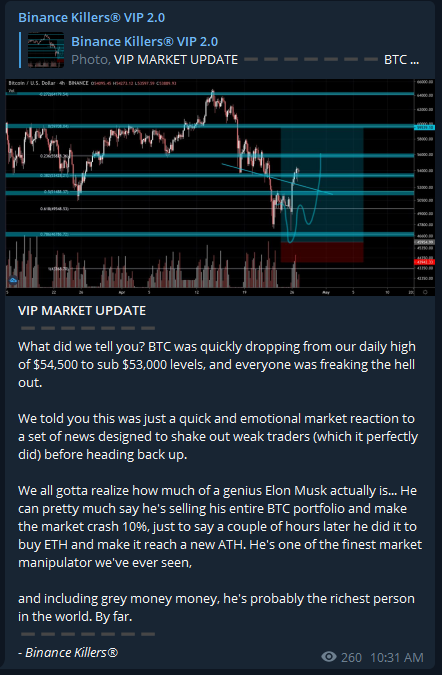 The team of the Binance Killers telegram crypto signals group is formed of 3 admins that cover all the timezones (Moscow, New Delhi and Miami), the average response time for our inquiries were about one hour but sometimes we had to wait up to 4 hours, which is understandable given that admins have an immense amount of work for providing quality cryptocurrency signals.
Most of our questions were answered by @bkceo and as we have said before he is extremely knowledgeable and provided answers to all of our questions. The overall team experience in cryptocurrency trading is now over 5 years which is huge in this domain, given that most of crypto traders have about 1 to 2 years experience. And the experience they have truly reflects in their results, precision and trading style. 
Binance Killers review - quality crypto signals
Now let's get to the juicy stuff. This is where the magic happens, this is where profit is made. When joining Binance Killers you will get access to a single channel, even if this seems basic compared to some other providers we rank on our site, we assure you that this channel is absolutely full of juicy trading information and of course pertinent cryptocurrency signals . The experience the team has shows in the trading style they use. The trading style is biased mainly towards midterm and longterm signals which is in our opinion the best way to get profit in crypto hands down. The seekers for thrills for scalping can also find some scalping calls , even though they are much scarcer. The maximum leverage they use on the channel is 5X for Binance futures signals, another kind of proof that they really do know the risks of cryptocurrency and that they care about their members.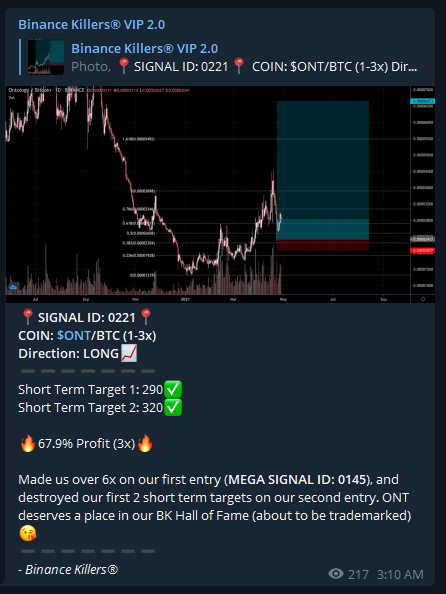 Crypto trading signals risk and reward
Even though the admin of Binance Killers convinced us he knew what he was doing from day one, we needed to test the quality for ourselves. They usually post one to two signals daily, and while some signals do not really provide immediate profits, the majority of the signals are winners over time. Remember that they are focused on midterm and long-term crypto signals. Due to the clean and clear trading signals we award Binance Killers with 4 stars.  You might ask why not 5? Well there are some things that Binance killers doesn't provide yet. Like a bot integration that we know for a lot of beginners is really important. Another inconvenient would be the frequency of scalping signals that might keep some adrenaline junkies with their hands on their lap.

During our review period we have followed 10 signals. What is interesting about Binance Killers is that they ID the signals with an unique 4 digit number that can be easily found after and another cool aspect is that the analysis updates and even some of the signals themselves will flow with other signals thus providing a steady flow . An exceptional idea that is executed very well. All in all our results were profitable and have netted us over 140% total over our test period.

Telegram crypto channel - Binance Killers
The Binance Killers crypto community has around 200 members on the VIP group and around 33k on the fremium group at the moment of this update. Being that they started less than a year ago, the community is growing steadily and surely.
As mentioned before, the support for this crypto signals telegram group is exemplary, knowledgeable and with admin responses that average at about 1 hour.
Currently the Binance Killers group only accepts cryptocurrency, mainly BTC, with other crypto payment options available directly with the admins.
For one month subscription you will be paying 0.008 BTC (full list on the top of the page). In our opinion this is a downside of this trading group as it restricts it's user base to people that are able to pay this kind of subscription in the first place. 
However for members that are comitted, the pricing decreases exponentially and we find that the lifetime subscriptions are the best deals with Binance Killers.

Trading education and other ressources
Education is one extremely important part treated by the Binance Killers group. By joining this telegram crypto channel you not only get quality signals but also market updates and education.
A lot of people have come flooding the markets in 2021 , and most of them don't know how to trade at all. Thats where Binance Killers steps in , with an immense set of educational ressources and quality cryptocurrency trading signals. Furthermore, traders can ask questions directly to the admins that are more than glad to help. The value of this group is really in their overall service.


Update May-June 2021:  The trading style that dictates at Binance Killers has allowed the group to survive and re enter at better prices during this big crypto market drop.
Our full Binance Killers review has been supported by a 1 month test period where we tested their signals, support and reviewed their educational material.
Binance killers will be your helping hand in trading, a helping hand that IS needed in a hectic cryptocurrency market, where volatility eats profits, creates liquidations and destroys accounts. Binance Killers will help you trade, better and with low stress, as their signals usually cover mid to long term trades and have all the data needed for a trade to be executed.
Verdict: Binance Futures Signals is now vetting Binance Killers as a legitimate and qualitative crypto telegram channel.