⚠️Warning! FED Russian Insiders has not submitted the monthly results for the last several months. Due to lack of transparency we advise to proceed with caution!
Fed. Russian Insiders Review
Fed. Russian Insiders is a cryptocurrency trading signal group that operates exclusively on telegram. The team is comprised of 3 mature and seasoned traders that come from the traditional markets with high experience in stocks, indexes and commodities markets. They bring their massive experience to the cryptocurrency industry for new traders and seasoned alike. Here is the complete Fed Russian Insiders review signed Binance Futures Signals.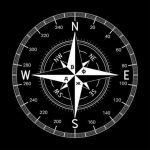 0.015BTC/Mo, 0.02BTC/3Mo, 0.0375BTC/1Y, 0.07BTC/Life
Cornix automation available
Up to 5x, and 10X for some pairs
Customer pre-sale support
Customer after-sale support
*the service provider is tested during the period of one month and the result of the final rating is rounded down
*service providers are audited monthly and the results reflect in each months update
Detailed review for Fed. Russian Insiders (FRI)
Fed. Russian Insiders is a trading group with ove 15 years in trading experience in traditional markets and in cryptocurrency.
We are always trying to find the real gems when it comes to signal providers and again we are extremely happy to list a provider that is truly wort h our attention. Fed Russian Insiders is a crypto trading signal group that is lead by @dmitriFRI , that was kind enough to answer all of our trading related questions, aswell as general questions about how the group works and some education. 
Because of the current market situation , there are a lot of fake crypto traders and groups trying to scam people out of their hard earned money. We take our time to test and verify every crypto provider on our site and we can guarantee that Fed. Russian Insiders is not a scam, the provider is marked as APPROVED on our site. We went ahead and checked the team background, the response time and most importantly the quality of the cryptocurrency trading signals.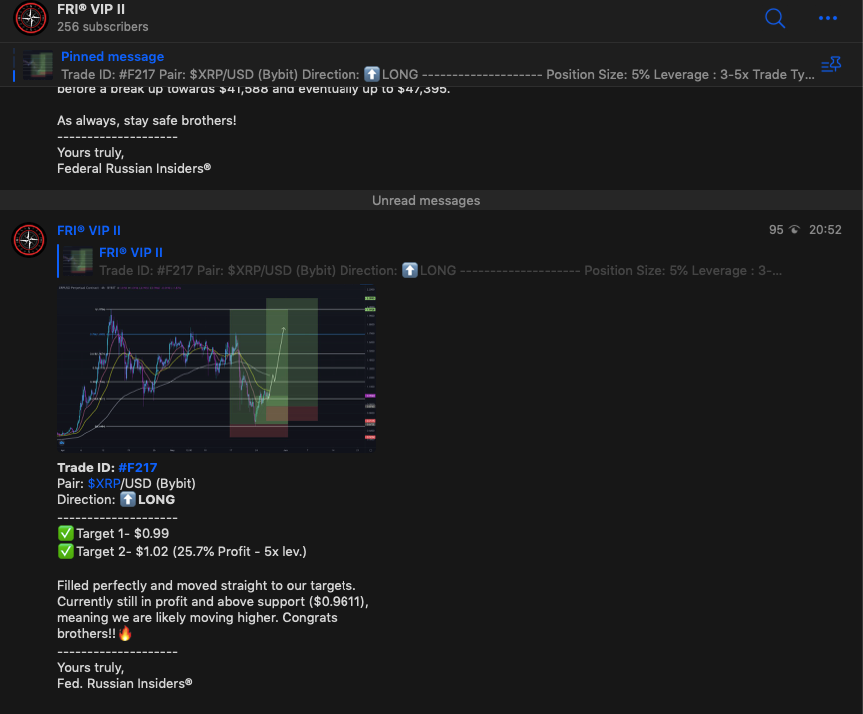 We know what traders want, we know what scammers do , we pride ourselves with the gift of smelling rotten groups and finding real gems. The reason that Fed. Russians Insiders (FRI) is even on our site is because they truly deserve to be seen and approved us. Simple to use and understand, binance cryptocurrency signals that are usable with Cornix for full automation or traded manually using the detailed crypto signals.
Who are the Fed. Russian Insiders?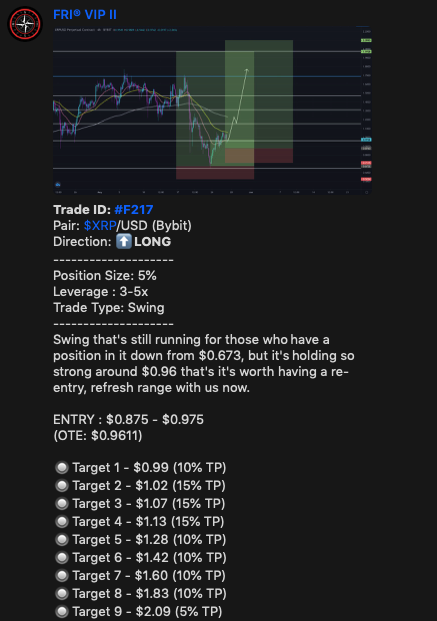 Fed Russian Insiders has 2 extremely capable admins that are based in Moscow and that manage the cryptocurrency trading group . The main exchange that is Binance, which is perfect because this is what we like here at Binance futures signals. The response time is fast with <1hr on average and absolutely all of our questions were answered in a polite and expeditive manner. After joining we discovered the channel and went through their 
content. We highly appreciated the manner the signals are posted, with a very organized telegram channel signals are very easy to use.


Fed Russian Insiders - the telegram crypto signals
This is where the magic happens, this is where the profit is made or lost, this…ladies and gentelemen is the place where lives can be changed. The quality of a telegram signals channel can be evaluated when we look at the historical data over several months.
Fed russian insiders was audited by us for a period of 1 month, and we can assure you this month (May 2021) was not a good month for crypto. However these guys managed to pull it off with their trading style. They tend to prefer long timeframes that are insensitive to market chops, which can be extremely interesting for some and extremely boring for others. 
As in the example below, the majority of the signals you will find on the main channel are based on high timeframes and often leading to extremely high percentages of gains.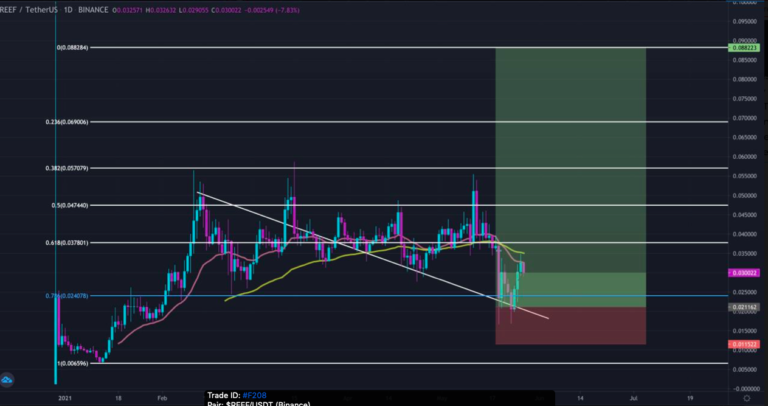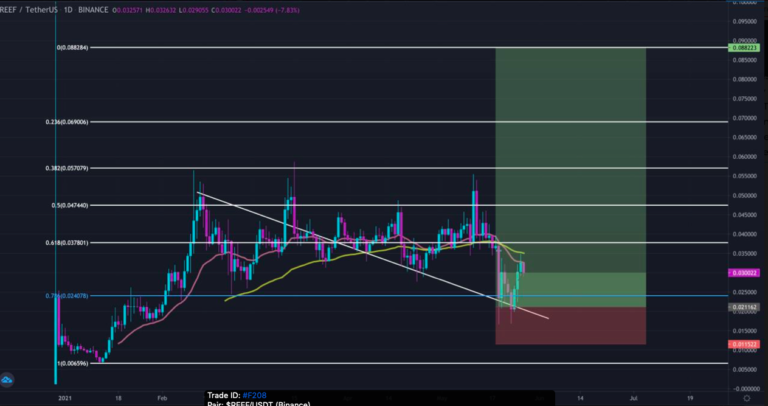 Crypto trading signals risk and reward
With a convincing speech from the admin of Fed Russian Insiders, what we needed to test further was the way they actually protect losing positions. And oh boy with this months bitcoin drop, the positions really needed protecting. So on the main channel we have had the guidance of the admins and we managed to cover some losses with some absolutely spot on entries. All in all the month ended as a positive experience with an extremely promising future for the months to come. We at Binance futures signals, find that their long timeframe approach is a very solid one, an approach that reduces the stress that comes from trading futures. Of course all of the trades should be risk protected. 

Fed Russian Insiders - Trade results after one month
During our review month we actively followed 8 signals and paper traded the rest of them. In a very shaky market they kept posting almost every 2 days , which is admirable given the market situation. The almost daily analysis on the crypto market certainly helps a lot also, we are marking it at a very positive point. End result of the month 180% raw gains, and even if there were inevitably some losses, we still fell with our feet on the ground.


Telegram crypto channel - FRI
The Fed Russian Insiders crypto community has around 250 members on the VIP group and around 20k on the fremium group at the moment of this update. Being that they started less than a year ago, the community is growing steadily and surely. 
As mentioned before, the support for this crypto signals telegram group is exemplary, knowledgeable and with admin responses that average at about 1 hour.
Currently the Binance Killers group only accepts cryptocurrency, mainly BTC, with other crypto payment options available directly with the admins.
If you want to subscribe for one month you will be paying 0.015BTC which is deffinetly on the high side of the pricing for signal providers. But as we always say , if the telegram crypto group is really worth it, pricing should not be an issue at all. We just need to on the green at the end of the month, or a trimester if the trends don't help.
As with other telegram signals groups , buying the service for a longer term is more interesting price wise. Full price list at the top of the page.
Trading education and other ressources
Fed russian insiders will also give you access to a ton of documentation and daily analysis. A negative point that we find is that the trading learning material is general and not up to date with the current market situation. However the daily analysis is in fact on point and very descriptive.

Fed Russian Insiders review Conclusion
Our review for Fed Russian Insiders ends here. Binance futures signals is extremely happy to welcome FRI to our safe trading signals pool. These guys know what they are doing and they put a lot of effort into the signals, management and support of the channel. 
Long gone are the days where you traded alone and made mistakes that ended in liquidations and poor trade decisions. We have the possibility to pick the brains of some of the best crypto traders on the planet, and FRI is indeed one of them.
Verdict: Binance Futures Signals is now vetting Fed Russian Insiders as a legitimate and qualitative crypto telegram channel.