Spot trading in crypto is simply buying or selling crypto assets at the moment of the trade. Before the launch of the first Bitcoin (BTC) futures platform in 2017, spot trading was the only type of trading option available for crypto trades.
Wait! Did you know the difference between spot trading and futures trading?
Yes, there is a huge difference, as you will learn through this section discussing the basic concepts of spot trading and futures trading to help you read deeper into futures contracts.
In spot trading, the exchange is settled instantly, unlike futures trading, where prices on the exchange will wait to be settled on a future date once the position is liquidated.
A spot market allows traders to directly buy or sell the commodity, something that does not apply in the futures market. The latter involves buying a contract representation of the commodity, which will be settled in the future.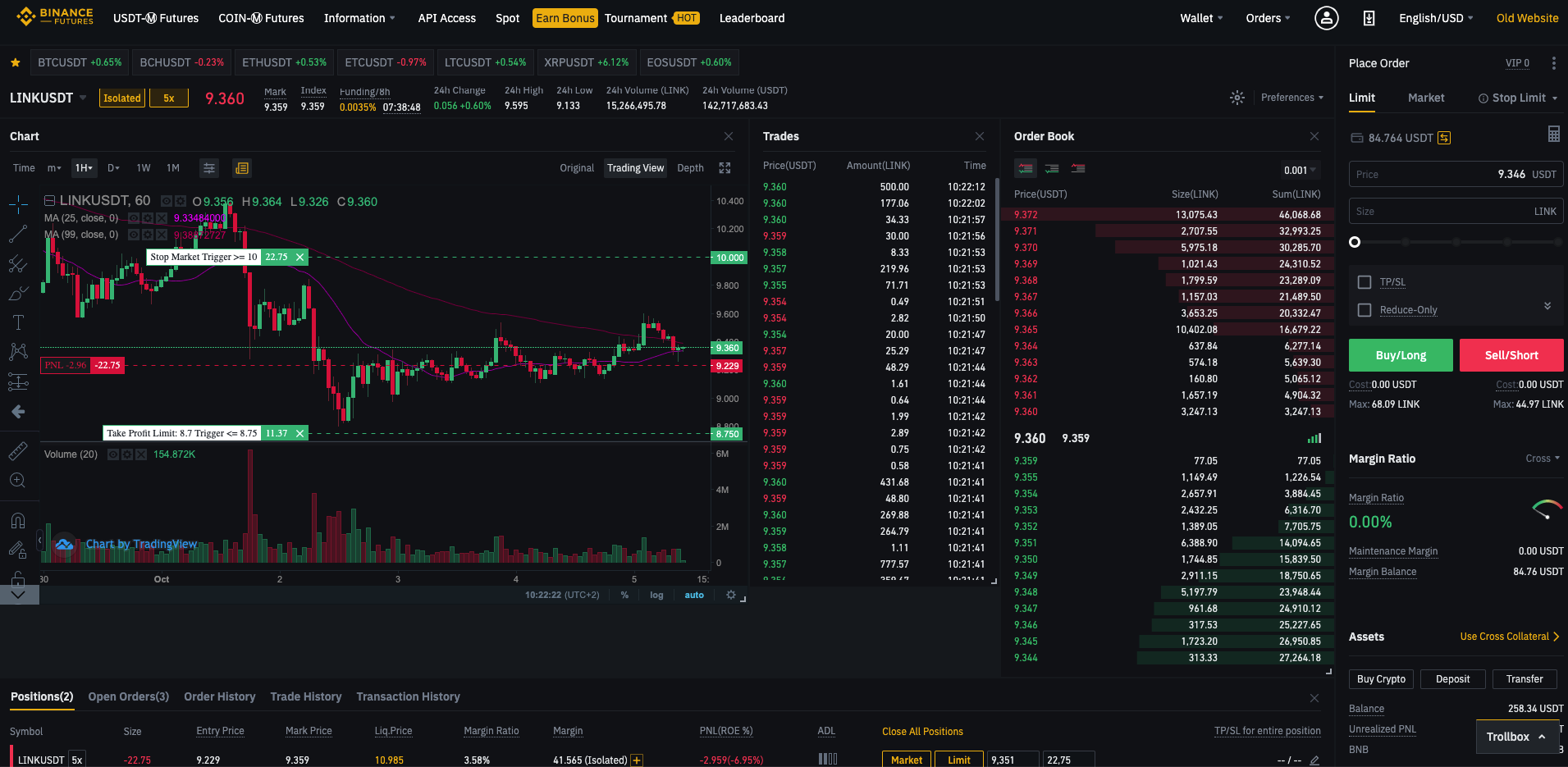 Types of Margin on Binance Spot Signals
To open a new trade in a futures exchange, you will need a margin check against collateral. There are two types of margin in the Binance futures trading: initial and maintenance margins. The initial margin requires you to have collateral greater than the initial margin when you open a new position. Maintenance margin, on the other hand, is affected when your collateral, plus unrealized profit and loss fall below your maintenance margin. In this stage, you will be auto liquidated, which leads to you being penalized with additional fees. To minimize penalties, you have the option of liquidating yourself before the point of auto liquidation.
With leverage, you can hedge out spot or hold risk with relatively small capital outlays in the futures market. For example, if you are holding 1000 USDT worth of BTC, you can deposit much smaller collateral, say 100 USDT into the futures market and short 2000 USDT of BTC to fully hedge out the possible risk.
How Binance Futures Signals help spot traders
Someone who has an educational foundation in trading will understand that no one, including the best traders, can win every trade. Spot trading crypto is a game of numbers and risk management. So if you can nail a win rate of over 50% then you can win the long run if you maintain the consistency and discipline it requires. That is, winning requires that one can make use of the following effectively:
o Well-placed stop losses,
o Probabilistic setups,
o The favorable risk to reward ratios and
o Good position sizing.
The use of Binance signals to help traders determine profitable investments has been gaining track over the last few years. With the prices of most cryptocurrencies either stagnating or declining in value, finding the right spot trade is becoming increasingly difficult. If you're one who doesn't want to miss out on opportunities available, then there is no point in holding onto your crypto without capitalizing on the volatile crypto market. You can grow your crypto over time, just by entering and exiting positions without having to research on your own. This is where Binance Futures Signals come in, as it provides daily signals to help you know when to enter or enter the market.
The signals are primarily for those with a busy lifestyle and lack time and desire to learn the discipline or art of how to study charts. This is perfectly normal, mostly because being a successful trader takes more than meets the eye. Although it may be safest for you to not even try, Binance Futures Signals offers you an opportunity to use its signals, which saves you the possible years you'd have taken to practice.
The truth is, spot trading is hard. So do not try to tweak things and live in denial. Just stick Binance Futures Signals, and you may get the chance to make more than you lose.
Cryptocurrency Trading education
Trading education is one of if not THE most important tool a trader can have. There are many ressources online that help traders better understand the market, and it takes time to sink everything in, but remember that trading is not something that you get into overnight, preparation is key and having a good understanding on how the markets work is crucial. Some of the binance signal providers on our site offer trading education at multiple levels. The ones that are ranked higher offer the most education be it by streaming, written supports or even one on one learning sessions.
What you need to succeed with binance spot signals
Tip #1: Read the introductory information on the site
Once you sign up for our signals, you will find some introductory materials to guide you throughout the process. Don't ignore the information. Read the materials carefully, and you will avoid so many costly mistakes some newbies commit. The materials are not too much, so it may take you maybe a few hours to read them.  
Tip #2: Don't think too much before you make a move
Let no one lie to you that you will succeed in spot trading if you think too much about your moves. When you receive signals from Binance Futures Signals, just follow instructions and avoid thinking about whether you like the signal or not. Don't take a trade because you're unfamiliar with the project and don't put larger positions than you should into a coin simply because you like the project. You will greatly save yourself if you just stick with the plan and use equal position sizing for every trade.
Well, sometimes you may want to grab some long-term bags by putting a small portion of your coins into futures trade. That's okay, but with the capital you have set aside for spot trading, you should stick to your plan or guidelines. Experiment with what you can afford to lose, but stick to your spot trading plan.
Tip #3 Ready yourself for daily signals
Binance Futures Signals schedules its signals every day on the hour dot. This can be frustrating if you're not ready to take a position. But like any investment that rewards, you must give it attention to get a maximum return or better your profitability. One thing about crypto prices is the high volatility, which is highly profitable for those who are alert. Spot trading needs you to act instantly as soon as you receive your daily signals. A 5-minute delay or more can change everything for you. In most cases, a delay means that you will find prices have pumped significantly, missing the most profitable spot. If you miss the trade, just do not chase it. Just let go and wait for the next signal. Because these signals are monitored 24/7, you can always wait for the next signal t0 take a position.
Tip #4: Take every trade with the right position size
It is important to take every trade with the right position size and each with an equal position size. But ensure you don't risk more than 1% of your capital.
What it means is that if you have $5k set aside for spot trading, then you can enter a position with $500, and stop-loss is at 10%. This means that you can only lose $50 maximum on the trade. This means that you're risking only 1% of your trading capital. Sticking to your plans for the same position size for every trade, and not risking more than 1% means you're likely to win more than losing.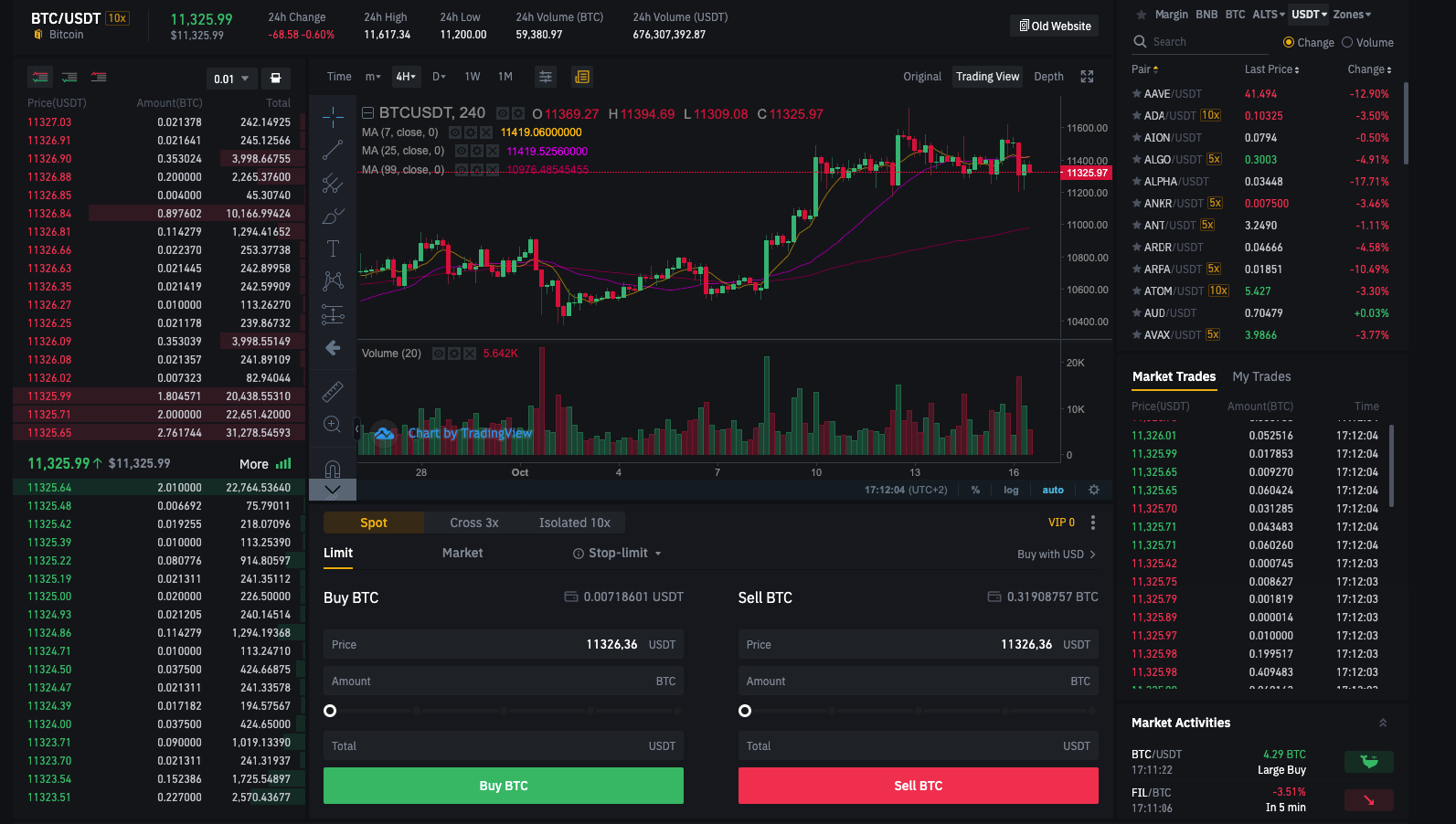 The trading panel for Binance Spot is clean and has all the necessary  tools for a trader to thrive. All you need now is good trading signals and the proper trading education for cryptocurrency.
Binance Spot signals thoughts
Following these tips will not only earn you profits but also become your learning curve on how to be disciplined as a crypto trader. The first thing you must consider is that trading crypto requires you to follow a specific plan. No need to chase a trade if the signals have changed from what was given. Making use of Binance Futures spot trading signals is one sure way of ensuring you don't gamble too much with your money but work with a proven plan.